Hosts:
birmingham
Dates:
July 28th to August 8th
Roof:
Watch live on BBC TV with extra broadcasts on BBC iPlayer, Red Button, BBC Sport website and BBC Sport mobile app; Listen on BBC Radio 5 Live and Sports Extra; live text and clips online.
Scotland's men failed to achieve a famous victory as New Zealand bounced back from a 5-1 half-time deficit to equalize on the opening day of the Commonwealth Games.
Scotland, ranked 19th in the world, was on course to win the 2018 silver medalists after an impressive start.
New Zealand started the turnaround with two minutes left in the third period, then scored three out of six at the start of the last quarter to equalize.
The Scottish women opened the campaign with a 4-2 victory over South Africa.
However, Wales lost 4-0 to Canada at the University of Birmingham hockey centre.
In the men's competition, England started with a routine 6-0 victory over Games debutant Ghana in Group B.
A hat-trick from Nick Bandurak, as well as other goals from Phil Roper, Will Calnan and David Condon, illustrated the dominance of England as they seek to improve on their bronze medal in 2010 and 2014.
England are expected to pass quickly through their group, but expectations are much lower for Scotland.
However, they almost came as a stunning shock against a nation that has a rich pedigree in the sport.
New Zealand have a relatively inexperienced team in Birmingham, with some key players absent, and have gone into the Games' opener after winning just one of their previous 15 matches.
However, there was still surprise in the way Scotland managed to separate them in the Pool A meeting.
Rob Harwood, Callum McKenzie, Jamie Golden and Cammy Golden gave Scotland a 4-0 lead before New Zealand closed the gap through Kane Russell.
A Golden goal from another penalty restored their four-goal lead before half-time and there seemed little danger of a comeback as the third quarter drew to a close.
But Sam Lane gave New Zealand hope and three more goals in the opening stages of the last quarter – from Jake Smith, Hugo Inglis and Sam Hiha – earned the tie in a memorable match.
The women of Scotland on the other side of a comeback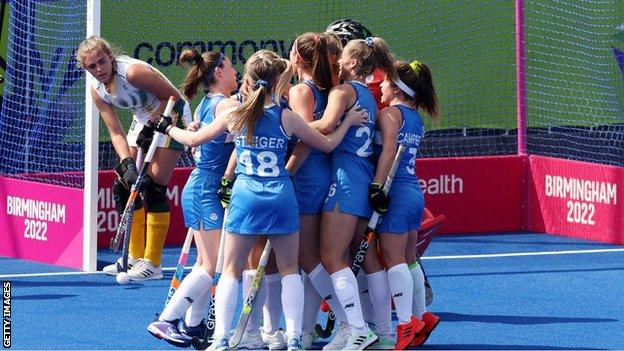 After falling behind in the first quarter, the women of Scotland produced a thrilling comeback in the Pool B match.
Charlotte Watson put Scotland into an early lead against South Africa, but their opponents responded with two goals from Lisa-Marie Deetlefs.
Chris Duncan's team equalized through captain Sarah Robertson after a great move by Millie Steiger.
They added a third when Fiona Burnet swept home in the third quarter, before Jennifer Eadie's deflected effort in the final moments.
Elsewhere, defending champions New Zealand thrashed Kenya 16-0 in the opening game of Group B, while India beat Ghana 5-0 in Group A.
Meanwhile, Wales' Sian French saw his first-quarter penalty saved by Canadian goalkeeper Chloe Walton.
Canada then punished the foul with four unanswered goals.
Hannah Haughn opened the scoring with an excellent solo shot in the first quarter, before captain Sara McManus scored from a corner.
In the second half, Brienne Stairs scored twice and Canada advanced to victory in Group A.