Oseeing the pandemic, I sat at my house and dreamed of a vacation. I sat in my house, the same chair, the same view, the same discussions about the same toys, and over the months I refined that dream. Some people fantasized about trekking through the Himalayas. Some are about exploring jungles, paddling on a secluded beach or jogging through Manhattan. I wanted a place where I didn't have to cook. I wanted a holiday where all the decisions were made for me, where we could offset some of the panic of lockdown by laying worry-free in the sun, some of the lack of childcare of lockdown by sending the kids out to play in a room that also contained . I wanted an all-inclusive family resort, somewhere warm, and I really wanted it.
So, having started rolling idle options in 2020, two treacherous years later, there I was, on a package to Corfu. It had been three years since we went on vacation: a lot depended on it. I was traveling with my family, including a child born at the start of the first lockdown, who has never had a vacation in his life. We were curious to see what he would think of swimming pools, of other people, what he would think of the sea and being lifted 31,000 feet into the air while beside him a stranger watched. Friends no headphones. The answer was: I liked it.
The resort was called MarBella (pronounced with a hard L) and was on the southeastern coast of Corfu, a sprawling complex of buildings surrounded by various lavender and rosemary and crowned with a colorful water park. Every 10 minutes or so, a giant bucket of water toppled over and spilled from the water park's peak, drenching those below the waterslides, whose squeals of joy ran down the slope to the other two pools, one discreetly placed in the distance. one-armed of all shenanigans, where only adults were allowed. My partner and I look green.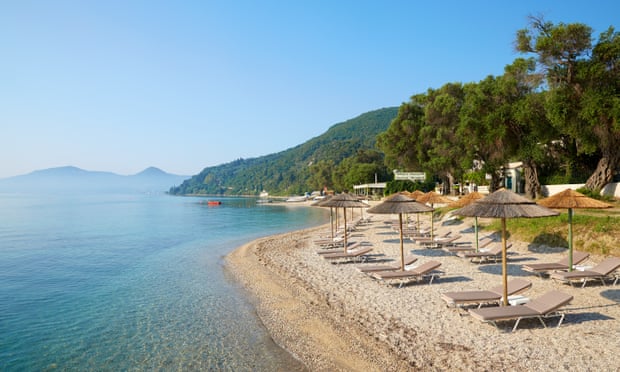 The morning after our arrival, we were introduced to the hotel's "dining concept", ie the buffet. I had experienced the life-changing joy of a breakfast buffet in the past, but my family had never been lucky enough to go all-inclusive before, which meant we'd never done "buffet dinner" either. It's hard to come back from that, I'll be honest. And for all the kid-centric entertainment — a kids' club, pottery sessions, water slides, Lego robotics classes — for my kids, the prospect of independently gliding through three potential dinner aisles trumped it all. Those first few days for them were just watching the clock between buffets. There was a do-it-yourself sundae piece and an entire aisle of desserts – the big kid would lead the little kid around the restaurant and hold him to look at the puddings. They would return with a tasting menu of cold stuff in small pots, often cream-based, sometimes adorable. I felt sorry for the chefs – catering to a hotel packed with British families, their local dishes were largely avoided by all under 16s, each of whom ate plain macaroni and cheese every night. But despite that, everyone there floated on an equally magical all-inclusive cloud: after all those months of lockdown meals, being prepared was an oddly exhilarating experience.
The purpose was to relax. I had a vision of lying very still in the mottled shadow, a state of lobotomized serenity. There were times when I almost made it, albeit with a sleeping child dangling from my sweaty bikini, or on the porch late at night. But for all the beauty and forced delight, I realized on the third day that there's a lot a hotel can do, unfortunately. They can provide good food, they can clean the rooms, they can plant bougainvillea so they can go up in arches, they can set up a small counter near a pool where fresh towels are available on request, but the rest, well, it's up to you. On a family vacation, you can escape your home, but you can't really escape your family. So after a few days we gave up trying; we were so unpracticed in the art of relaxation that we decided to wake up from the all-inclusive dream and launch ourselves on a different kind of vacation.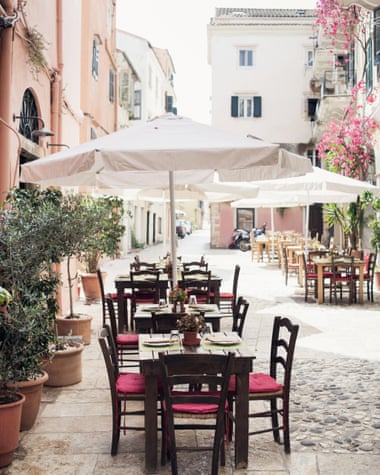 We left the complex and took a bus to Corfu's old town, with its wide white marble pavements, slippery under sandals, and its labyrinthine alleys, and its rocks that sloped down to the Adriatic Sea, and its ancient fortresses, and your ice. – creams. Back at the hotel, we avoided the buffet and ventured to taverns along the coast, where we ate grilled fish by the water's edge. And eventually, we avoided the pool and its merry aerobics classes as well, heading down to a nearby rocky beach, where, in fantasy, I would have ripped off my dress and jumped screaming into the sea. In fact, I had to apply everyone's sunscreen, then take a series of long minutes to walk down the steps and then submerge myself groaning in the cold marine water, but it was worth it. I swam out a modest distance and looked back – on one side I saw the hotel, white and shimmering in the heat, on the other side the mountains, covered in green and lilac bushes. The best of both.
Fantasies have run wild in the pandemic, rocking marriages, changing careers and sending people like me to the long sandy beaches in their heads.
As the world comes back to life, I foresee a shift away from vacation rentals and towards all-inclusive vacations where one can be taken care of in a way we've missed out on. The problem with chasing a fantasy is that reality is never quite what you imagined. But sometimes it can be even better.
A 7 night holiday with Jet2holidays in MarBella Corfu costs £649pp half board, based on 2 adults and 1 child (2-11 years old). For more details visit (marbella.gr)